NEW To Colorado Cleaning Company. Maids and Janitors who wear real time BODY CAMERAS.
For your curious mind. We provide peace of mind service.
Call us today to find out more.
---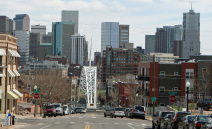 Colorado Cleaning Company can handle BIG jobs and small....
Denver is our home and we like to keep it clean!
Professional experience with:
RESIDENTIAL:
Denver's famous bungalows, our suburban homes, Condos, Apartments & our out- set country properties.
Vacant Residential & Commercial Properties:
Detailed Turn Over Services. Get your property back on the market, quickly and efficiently. Detailed Interior & Exterior services.

Offices:
Large and small building maintenance & after hours Janitorial.
Commercial:
We render services for 2 property management companies, numerous builders, Realtors, Fannie Mae via 3rd party, a couple of non-profits, fix and flips, trash outs, professional organizing and hoarding.
The Distance:
We travel to Boulder and other areas with in 30 miles of Denver for our residential customers. We travel the entire state of Colorado for our commercial night accounts.
Colorado Cleaning Company is what your looking for:
There's not doubt about it; Colorado Cleaning Company has the experience and trust you are seeking.
Colorado Cleaning Company has skills:
We have skilled employees, also, with experience doing commercial carpets, floors, window washing & light handy man duties.
Don't delay call today:
Contact us to set up an initial consultation, 720-277-4604.

---

Professional ◆ Reliable ◆ Satisfaction Guarantee ◆ Above Expectations